#1: FIS World Cup Ski Racing Update: Shiffrin Back on Top:
---
Welcome to the third installment of Top Five Fridays, 2021! This week, we come bearing good news from the world of ski racing! After last week's relatively slow week, we have some much more exciting news this week, the highlight of which is undoubtedly the fact that Mikaela Shiffrin has won her first slalom race in over a year. On Tuesday, under the lights in Flachau, Austria, Shiffrin put in an impressive first run that saw her hold first place with a .08 second lead. Then, after Katharina Liensberger's second run, Shiffrin saw her position drop to second place. To win, she would need to put in the run of a lifetime. As it turns out, that's exactly what she did. In Shifrrin's words, "I just was pushing. I wish I could explain. The second run, that was maybe the top slalom skiing I've been able to do in a race." Ultimately the result of her effort was a .19 second victory, a podium finish that was historic for Shiffrin in many ways. In addition to marking her return to the top of the sport, the first place finish also resulted in a number of adjustments to the record books. At the top of that list is the fact that it was her 68th World Cup win, pushing her into the sole occupier of third place on the all time wins list, trailing just Ingemar Stenmark (86) and Lindsey Vonn (82). Additionally, it was her 44th Slalom win, giving her the most career wins by a female within a specific discipline. Finally, and potentially most meaningfully to Shiffrin, it was also her 100th podium.
Of course, while it was a huge week for Shiffrin, it was also notable for other U.S. Ski Team athletes as well. In that same slalom race, Paula Moltzan finished a slalom-career best 9th, while AJ Hurt finished in 29th, securing her first ever career points in slalom. Also occurring last week, Breezy Johnson finished third in a Downhill race in St. Anton, Austria. Unfortunately, on the mens' side things were a bit more subdued, although a number of athletes did earn points over a series of three races in Adelboden, Switzerland. Due to Covid concerns, that was the only series for the men last week as the races in Wengen, Switzerland were cancelled as a result of a rising case count. Looking ahead, the women are currently in Kranjska Gora, Slovakia for a pair of Giant Slaloms, while the men are in Flachau, Austria for a pair of slalom races, before heading to Kitzbuehel, Austria for a pair of Downhill races and a Super G the following weekend. To see the full FIS schedule, including last week's results as well as upcoming events, click here.
#2: Jessie Diggins Becomes First American to Win XC's Tour De Ski:
---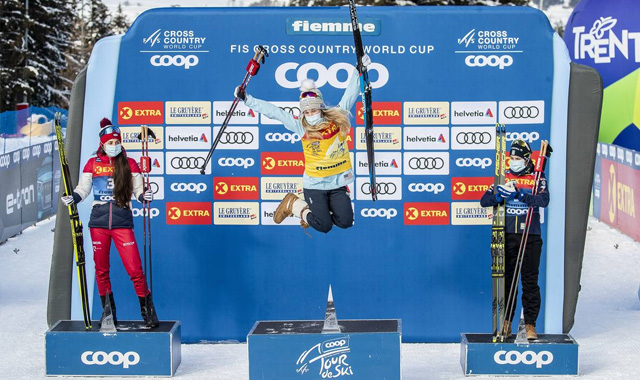 In other ski racing news this week, U.S. Ski Team member Jessie Diggins took home the gold in this year's iteration of the Tour De Ski. For those unaware, the Tour De Ski is a 15 year old event that has quickly become the pinnacle race in cross country skiing. Modeled after the Tour De France, the Tour De Ski is a 10 day, 8 stage event that pushes athletes to a level unmatched by any other race on the FIS schedule. It had also never been won by an American, male or female. That is, until this week.
While there are obviously a number of articles celebrating the news, our favorite one is this piece from The New York Times that details the success of not just Jessie Diggins, but also her teammate Rosie Brennan, as well as the rest of the U.S. XC Ski Team. In this year's event, in addition to Diggins becoming the first American to win, she also paired up with Brennan to take first and second place in two different stages of the race- the only time American teammates have placed first and second in any Tour De Ski stage. What we like about the NYT article though, is that it takes us a bit further behind the scenes to get not just a better understanding of the significance of these results, but also how the U.S. Ski Team made it this far. In a sport that's historically dominated by nordic nations such as Sweden and Norway, where support for the national teams comes in part from the government, the U.S. Ski Team has long been a step or two behind. That's changed in recent years though, as financial support has ramped up and drastically improved results have followed. As per usual, there's tons of great information in this article, so we'll recommend giving it a read in full for yourself. You can do so here, using a private browsing window if you're blocked by a paywall.
#3: Covid Continues to Shake Up Ski Area Operations at a Number of Resorts:
---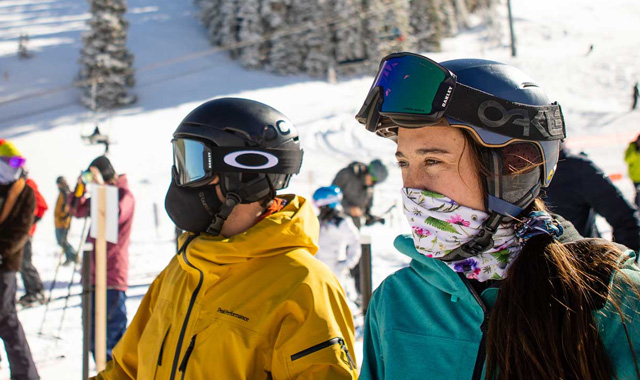 Well, the first two highlights this week were fun, but unfortunately we remain tasked with bringing you updates from the world of Covid. This week, we caught a number of headlines from locations across North America discussing how ski resorts and resort towns are being impacted by the pandemic, with many facing new restrictions. We'll start this wide ranging check-in in Aspen, where Pitkin County health officials held a vote this week to determine the best course of action as the county sees a surge in Covid cases. As of last Friday, the county had 3,046 cases, which equates to approximately 1 in 35 residents having Covid. As a result, the County's Board of Health held a vote this week to determine just how tight a new round of restrictions should be. One option that was on the table included a closure of the ski resorts in the county, including Aspen resorts. Fortunately for the ski areas, the Board of Health ultimately voted to move forward with their Level Red restrictions, which further limits capacity in indoor lodges and restaurants, and implements an 8 PM last call amongst other measures. To learn all of the details about this update from Pitkin County, check in with ColoradoPolitics.com.
Unfortunately, accommodating ski areas hasn't been the priority everywhere. In Ontario, tensions are rising between ski area operators and government officials as a shutdown that started back on December 26th has just been extended for another 28 days, and potentially even longer. As a result, many fear the ski season in Ontario could be done already, infuriating ski resort managers who not only stand to lose income, but also spent a considerable amount of time and money preparing to survive a season with additional protocols and regulations. At present, the ski area operators are gathering signatures in an effort to show local officials the support for allowing ski areas to reopen. It remains to be seen if this petition will have any impact. For more on this, check out the report from Canada's CTV News, as well as GlobalNews.ca.
Finally, there is also a touch of good news on this front. Last week, we reported that Colorado's Bluebird Backcountry Ski Area, the only 100% backcountry ski area in the United States, was forced to close due to an exposure at their resort. Fortunately, that situation's been cleaned up and the ski area is open again as of Thursday.
#4: Vermont, New Hampshire Include Ski Patrollers in Initial Round of Covid Vaccinations:
---
Finally, our last update this week is also Covid related, and we suspect we'll get some split reactions to it. This week, we caught articles from both Vermont and New Hampshire in which it was announced that ski patrollers will be included in the first round of people eligible to receive vaccinations. The news originated in Vermont, as that state's announcement was made just before New Hampshire's. As you might expect, it was also met with mixed reactions as teachers in the state were quick to voice their disapproval of the measure, citing their own need for vaccination as being more essential than that of ski patrollers. In response to the outcry, state officials referred to ski patrollers as frontline health care workers, pointing towards their requirement to treat people on the spot in situations where PPE may not be present. It's also worth noting that within this latest round of updates to the states' vaccination plans, other frontline workers such as law enforcement and firefighters are also eligible for vaccination. Of course while it's not overtly mentioned in either of our referenced articles, there remains an undercurrent of suspicion that the decision to include ski patrollers plays into the economic value of the ski industry in both states. As you might guess, this particular issue is chock full of opinions on both sides of the aisle, and it's certainly not one that we'll pass judgement on. Instead, we'll turn you over to VT Digger for the story as it pertains to Vermont, and to NHPR for the details relevant to New Hampshire.
#5: And Now, Your Edits of the Week: The Little Known Story of Colby Stevenson's Adversity:
---
*** Warning: Some Graphic Medical Shots ***
Revisit the Insanity of the 2020 Kings and Queens of Corbet's With This New Edit:
---
Finally, We Give You Lindsey Vonn, Park Skier:
---